Welcome to the K-W Kinsmen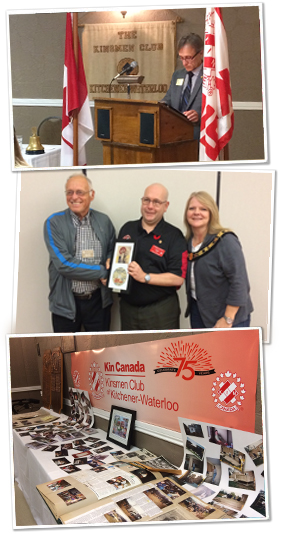 For over 75 years, the Kinsmen Club of Kitchener-Waterloo has served some of our community's greatest needs through ongoing, seed and project funding of human service programs and capital projects. We raise money in our community with many projects, such as the annual Kinsmen TV Auction. The Kinsmen Club of Kitchener-Waterloo donates manpower and money that it raises for causes such as KW Habilitation Services, Ray of Hope, Minor sports, just to name a few. Of course, nearly every Kinsmen and Kinette Club participates in fundraising for the Cystic Fibrosis Canada, which happens to be Kin Canada's Official National Service Project.

If you are interested in joining us, you can fill out our Membership information Request to find out more. We hold our general meetings the second and fourth Monday of the month at 7:00 pm at the KW Kinsmen Club Room at the KW Habilitation Centre, 99 Ottawa Street South, Kitchener.
Kinsmen & Kinette Clubs of Kitchener-Waterloo
present
66th Annual Kinsmen TV Auction
Attention Kinsmen TV Auction Viewers!
Due to the COVID-19 pandemic, this year's TV Auction Committee has made some hard decisions. That being said, the Auction will be pushing ahead with some changes to ensure all committee members, volunteers, RogersTV staff and the successful bidders will stay safe, healthy and protected as much as possible.
After 65 successful years of broadcasting on television, this year we will
be off the air. This does not mean the Auction will not go on. The
introduction of our online bidding two years ago allows us to move forward
this year. Online bidding will open at 5 pm on Friday March 12 and close at
9 pm on Wednesday March 17th.
Phone bidding will be available as well at the following times:
Friday, March 12 7 pm - 9 pm
Saturday, March 13 noon - 4 pm
Additionally, we will give the phone bidders a final chance to get in on the action
Wednesday, March 17 7 - 9 pm before we close it all out at 9 pm.
Callbacks will be on the evening of Friday March 19 to all successful
bidders. In doing Callbacks successful bidders will be given a window of
time to pick up on Saturday March 20th or Sunday March 21st. Pick ups
will be done on a curbside basis. Delivery charges may apply. Shipping
charges will be extra if pickup or delivery are not possible.
After a full year of COVID-19 restrictions, this is the safest and functional
alternative for us to continue this tradition in our community.
Registration now open for On-Line Bidding at http://www.tvauction.kwkin.com
Please contact the club at 519-579-2942
or join us at one of our general meetings, the 2nd & 4th Monday of the month
follow us on twitter: @kwkinsmen